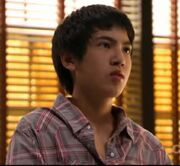 Bernard Yao is an Asian student attending Corleone Junior High School and first appears in the episode Everybody Hates Caruso. He beats up Caruso, dethroning Caruso from the chief bully position at Corleone, making the position up for grabs in the school, causing chaos.
Bernard later fights Caruso again by request from Chris, loses, and Caruso becomes the bully of the school again.
He also makes an appearance in the episode Everybody Hates the Bachelor Pad, where he has a brief conversation with Chris and Greg about Chris' new own place, and also gives him his math work.