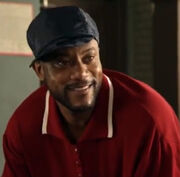 Malvo is a career criminal living in Bed-Stuy, often entering or coming out of jail. He is the subject of matters in several episodes, first appearing in Everybody Hates Malvo.
In Everybody Hates Chain Snatching, Chris prevents him from snatching Vanessa's chain, and harasses Chris to get him a new gold chain.
In Everybody Hates Ex-cons, Malvo even joins the 8th grade at Corleone Junior High School for a brief period to earn an education.
Ad blocker interference detected!
Wikia is a free-to-use site that makes money from advertising. We have a modified experience for viewers using ad blockers

Wikia is not accessible if you've made further modifications. Remove the custom ad blocker rule(s) and the page will load as expected.